Contact Mr Thai – Tuk Tuk Cowboy

The easiest way to contact me is to call me on my mobile. I am always be happy to talk to you. I have two mobiles just in case one does not work or has a flat battery.
My contact numbers are:
+855 11 722 788  – or in town 011 722 788
+855 92 774 227 – or in town  092 774 227
When I am not busy with tourists you might find me on corner of 136 Street and Sisowath Quay (the River Walk), or just up the road outside California 2 Hotel at 79 Sisowath Quay, Phnom Penh.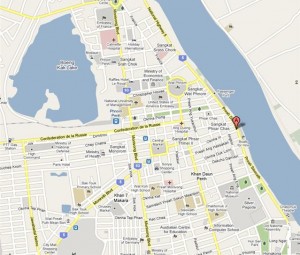 Here is map of Phnom Penh for you.
See you soon.
Best regards,
Mr Thai – Tuk Tuk Cowboy