Mr Thai "Cowboy" is a Tuk Tuk driver in Phnom Penh, Cambodia, and although his family name is Thai, he really is a Cambodian. Thai speaks very good English and also knows the Thai language.
Thai learnt his trade in the tourist industry, learning all about his country, it's history and the tourists who come to visit it.
Thai's uniform is a polo shirt and a cowboy hat and his trusty steed is his Tuk Tuk adorned with a pair of water buffalo horns.
He is a family man who lives with his wife Thai Win and their three lovely children, two young boys and now a baby daughter. When not driving tourists around you may find him on the corner of the Riverwalk (Sisovath Street) and 136 Street.
Last year he made the front cover of the Phnom Penh Post special feature magazine "Seven Days". Well done Thai.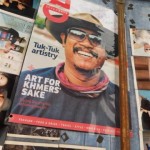 When you visit Phnom Penh, call Mr Thai "Cowboy" on his mobile (855) 9234 1713, or if you see him on the streets just flag him down. He will be more than happy to meet you and drive you around to all the sights.
Cowboy is trustworthy, reliable and very friendly. Making his acquaintance will become one of the highlights of your trip to Phnom Penh.